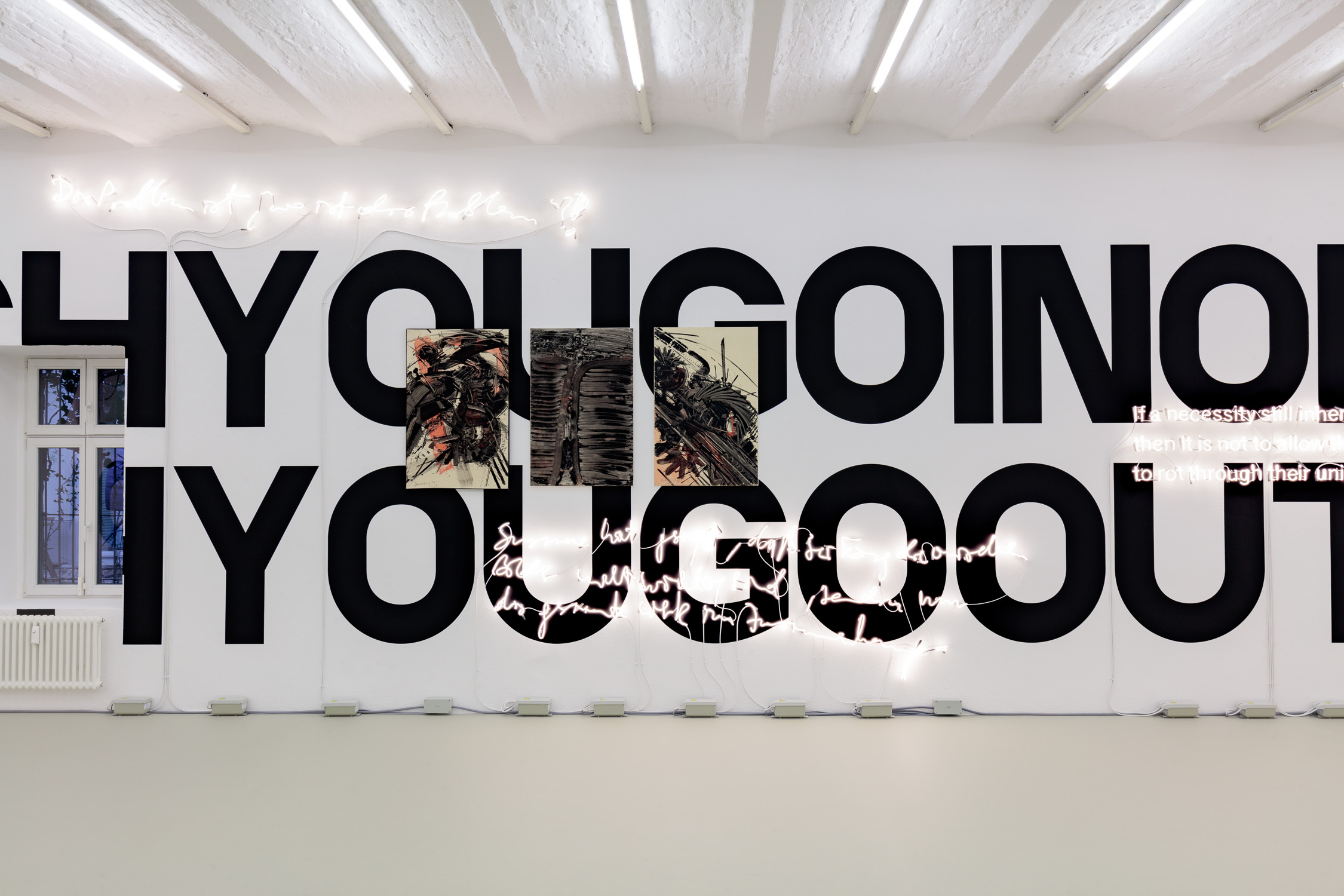 kosuth majerus sonderborg – an installation by Joseph Kosuth, Michel Majerus Estate, Berlin, 2022. © Joseph Kosuth / VG Bild-Kunst, Bonn 2022; © Michel Majerus, 2022. Courtesy neugerriemschneider, Berlin and Matthew Marks Gallery; © K.R.H. Sonderborg / Galerie Maulberger, München 2022. Courtesy Sammlung Grässlin, St. Georgen. Photo: Marjorie Brunet Plaza
28.04.2022 – 18.03.2023
kosuth majerus sonderborg – an installation by Joseph Kosuth Michel Majerus Estate
curated by Peter Pakesch
The Michel Majerus 2022 exhibition series will be launched by kosuth majerus sonderborg – an installation by Joseph Kosuth, which will show artworks by Michel Majerus side by side with works by his two professors, Joseph Kosuth and K.R.H. Sonderborg, for the first time. Curated by Peter Pakesch, the exhibition will be held at the artist's former studio, now the Michel Majerus Estate.
In the late 1980s, Michel Majerus (1967–2002) enrolled at the Academy of Fine Arts Stuttgart, initially to study painting under K.R.H. Sonderborg (1923—2008), and beginning in 1991 under Joseph Kosuth (b. 1945).
During his time with Kosuth, Michel Majerus was introduced to a concept of art that countered processes of thought with visual analogies, breaking away from the impetus of gestural painting – an approach celebrated by Sonderborg, a proponent of informal painting. Majerus succeeded in manifesting this dialectic in one of the most significant oeuvres of newer painting. Thus, he made a highly unique contribution to the establishment of a new visual language shaped initially by the analogue and later increasingly by the digital possibilities of image production. Concept and text merge with gesture and spontaneity in Michel Majerus' work.
In kosuth majerus sonderborg – an installation by Joseph Kosuth, Peter Pakesch, curator of Michel Majerus' first museum solo show at the Kunsthalle Basel in 1996, shows how the different strategies of the artist's two professors coalesce in his work to form a new understanding of spatial and conceptual continuity.